Survivor Results:
Before this season I thought about changing it to a one loss pool. Glad I didn't.
Sur1: $810 - fish food (Angel J.)
Sur2: $540 - 8 winners
$71.50 - Commish (Rich W.)
$71.50 - dbllny (Larry L.)
$71.50 - Donation (Sean M.)
$71.50 - romoore58 (robert M.)
$65 - jctd31 (Tara D.)
$65 - DaniD (Robert D.)
$65 - The New Kid (Peter R.)
$59 - Butt Knuckle (David Y.)
I'll wait until the Playoff pool closes before sending out winnings. Please be specific about user names you would like pay for in the playoff pool.
---
Contact Info:
Please you must identify who you are so that questions can be answered in a timely fashion.

Email: nfl@murraymadhouse.net
---
Talk about giving someone the business.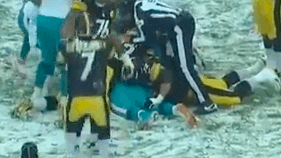 Playoff Pool
I've updated all the payments received as of Tuesday. Sent a reminder email to all that owe entry fees. If I mistakenly didn't mark someone as paid please let me know. See payment info below.
Projected Payout: (77 entries) [1 UNPAID]
1st - $265
2nd - $185
3rd- $130
4th - $90
5th - $60
6th - $30
Tie Breaker Display - Finally got the tiebreaker to show correctly. It's based upon the total points of the teams that are still able to earn points. Before the first game everyone had 78 (addition of 1-12).
Ex: If you had KC as a 2 and someone else tied with you had KC as 4, you having 76 (78-2) would have the tie breaker vs 74 (78-4).
Hope that makes sense.
Please send your payment ($10 per entry) ASAP. See Payment info below for delivery options.
Existing User Names:
1) Read Rules & Signup
2) Login above
3) Set your team points
Old & Senile (Need help remembering your user name or password.)
New User Names:
1) Register - Please be sure to enter a valid email and your complete real name.
2) Read Rules & Signup
3) Login above
4) Set your team points
---
Payment Info :
When sending payments PLEASE state the User Name(s)!
Sean Murray
369 Stickles Terrace
Kingston, NY 12401
PayPal : nfl@murraymadhouse.net
PayPal has modified their payment layout. (10/2013)
Please be sure to select "I'm sending money to family and friends". Credit card payments are charged a fee. These payments will be returned.
Please contact me if your payment info doesn't appear on your team selection page.
---
Privacy Policy : All information you enter is not used or given out to anyone and only viewable by The Host. I do request that your password is unrelated to important accounts such as bank, email, etc..

Goooo Broncos!!!

Interesting piece of info :
Every coach who lost to the Jaguars in 2013 has been fired
---
Site News : (12/29/13)
Made a lot of back ground changes this year that has simplified upkeep and greatly reduced past issues.
Have some more changes in mind for next season.
Would like to hear of your ideas.
Future Plans:
- Working on a way to make selecting teams easier for people with multiple entries.
-Adding some kind of indication of your team selection in the login bar.
- Possibly add some stats to the main page.
---
Other Info :
For a weekly pool consider Rich Walker's CBS Pool. Click on Pool rules for full details. After creating an account use Password: rjsz2013.
---
Host Entry :
For the hard work The Host gets one free entry in each pool.
---
What an awesome quarterback sneak to get the 1st down by Romo